40th Anniversary Letter GBWT 09122020 (3)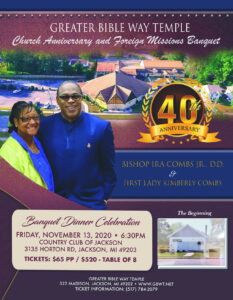 Greetings Distinguished and Beloved Friends of Bishop Ira Combs, Jr.:
It is with heartfelt gratitude that we pen this announcement. Having therefore obtained help of God, we are pleased to announce the 40th Pastoral/Church Anniversary Celebration of the Greater Bible Way Temple of Jackson, Michigan. Bishop Ira Combs, Jr. has been a faithful and dedicated servant of the Lord Jesus Christ, an exemplary Christian community leader and successful entrepreneur. As you may know, Bishop Combs is also the Diocesan Bishop of the Northern District Council and serves on the Board of Bishops of the Pentecostal Assemblies of the World, Inc.
In keeping with his servant leadership, he has elected to celebrate this momentous occasion by having this year's proceeds benefit Foreign Missions. It is with this letter that we are inviting you to demonstrate your love and support for this servant of the Lord for his dedicated 40 years of service to humanity.
We extend an invitation to you to join us for this Celebration at the Country Club of Jackson or via Zoom on Friday, November 13, 2020 at 6:30 PM. During these unprecedented times, this event will follow all social distancing guidelines of the State of Michigan. Your registration is required if you would like to send greetings and acknowledgments to Bishop and First Lady Combs. Below you will find the Zoom registration information for the Celebration at the conclusion of this letter.
If you wish to honor Bishop Combs by giving a love offering or purchasing tickets, please do so by completing the form below.
Thanking you in advance for your support and consideration. God will richly bless you for all that you do!
With warmest regards,